MATARAM, West Nusa Tenggara Province (NTB) has a tourist attraction that is not less beautiful than Bali. Beaches beautiful NTB with charming wave is the main capital of West Nusa Tenggara to develop marine tourism. Not just the beach alone, the NTB actually there are three earthen known as tourist attractions, namely Gili Trawangan, Gili Meno, and Gili Air. Gili, or are in the Indonesian language means that this small island, each has peculiarities, though all three together. Sense of wonder is going to feel when we are on the way to Gili Trawangan. As for to Gili Trawangan we can adopt the two lines.
gili terawangan island
The first path through the area Pusuk. This path is a mountainous area, so the cool air along the way kept saying hello. The scene at either side of the green trees. If lucky, we can see the doings of the monkeys as it passes through the area called Monkey Forrest. The second point can we go with the flow along the Senggigi Beach. If you pass the second line, the scene is presented with a stretch of ocean waves crashing. There's no way the travel time difference between the two line. No more than an hour later we will reach the Gulf of code. To go to Gili Trawangan You can use a motor boat. Charge, for public Rp 8,000 for each person. But if you chartered, the charge Rp 259,000 / US$ 26 per boat.
When you first set foot on Gili Trawangan, you'll enjoy the serenity. There's no hustle bustle like Like a tourist area. Soft sand beaches and crystal clear water as if to make sure we will be more like living in "paradise" of these divers. Underwater scenes around Gili Trawangan is said to be the most beautiful in Indonesia. According to Section Chief Marketing Cooperation Culture and Tourism Department of NTB Abdul Haris, there are species of blue coral is only found on the beach of Gili Trawangan. "On the beach of Gili Trawangan, there are also coral and shells that you can only meet in the waters of the Caribbean," added Harris.
You can enjoy the underwater beauty around Gili Trawangan by diving (dive) and snorkeling. Not only is the rock or marine park, a variety of ornamental fish can you enjoy here. Those who visited Gili Trawangan is also no need to worry about accommodation. In this area there are many hotels and inns with adequate facilities, including facilities-star hotel class.
divers site
Value
On Gili Trawangan also scattered restaurants and shops that provide for tourists. Meanwhile, those who are tired of diving and snorkeling can be a vast dyke around only about 10 square kilometers of this. There Cidomo and bicycles that you can wear around the dike. Cidomo is a traditional transportation NTB horse-drawn. One thing that becomes more value Gili Trawangan is the peace and quiet. This is what makes up their privacy so that tourists can enjoy holidays with your heart's content. "It's very comfortable," said tourists from Jakarta, Ignatius Ferry. If on the other tourist tourists often hunted by souvenir hawkers hawkers, it did not happen in Gili Trawangan. Harris was deliberately prioritize peace and quiet in Gili Trawangan as much value on offer. Short tourists made as comfortable as possible with the atmosphere of natural Gili Trawangan. Gili Trawangan In addition, tourists can visit Gili Meno and Gili Air. Similar to Gili Trawangan, the two other earthen tourists can travel comfortably.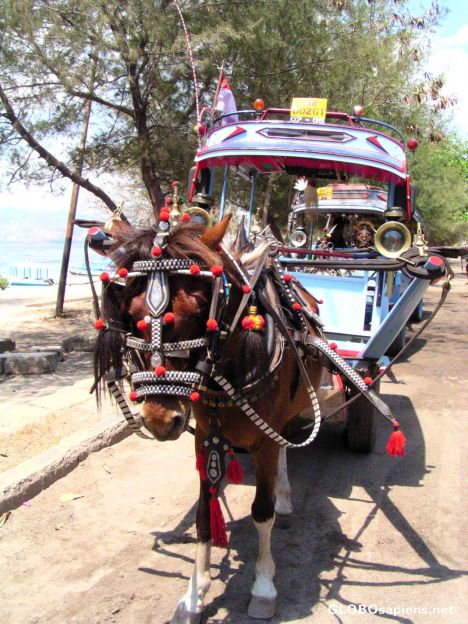 click the image to enlarge
Gili Trawangan
is the largest of the three small islands or dyke located at the northwest Lombok. Trawangan is also the only dike that height above sea level is significant. With a length of 3 km and 2 km wide, Trawangan population of about 800 inhabitants. Among the three dyke, Trawangan has facilities for tourists of the most diverse; shop "Tir Na Nog" claiming that Trawangan is the smallest island in the world is his Irish bar. The most densely populated parts of the island's east.
Gili Terawangan Island
Trawangan has shades of "party" more than Gili Meno and Gili Air, because of the many parties all night every night of the show rotated by some places the crowd. Popular activities conducted in Trawangan tourists are scuba diving (with PADI certified), snorkeling (in the northeast coast), play like, and surfing. There are also several places for tourists learn to ride around the island.
seafood :D
On Gili Trawangan (as well as in two other earthen), there are no motor vehicles, because it is not permitted by local regulations. A common means of transportation are bicycles (rented by locals to tourists) and Cidomo, a simple horse-drawn carriage common in Lombok. To travel to and from the third dyke, people usually use motorized boats and speedboat.
sunrise at Gili terawangan
bbrp resort at gili trawangan
beach