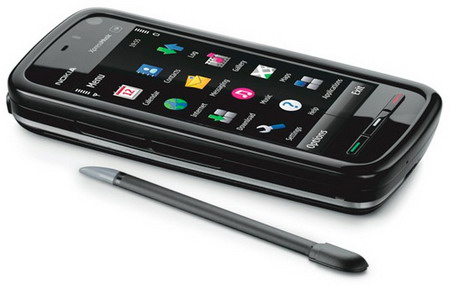 this express music nokia phone are just like iphone right?
i wanna make this cell phone as mine.
or we can say it as my target
i will get you soon :D
here the complete information about nokia 5800 :
Circulating newspapers are preparing for the Nokia music phone with touch screen concept. How it works like a mobile-phone touch screen that has been most outstanding. Only a LG Viewty, Samsung i900 omnia, and even the iPhone. Although still a rumor, but the newspaper said circulating that Nokia will launch a similar phone next month. Series and identify any existing XPRESSMUSIC ie Nokia 5800.
This mobile phone will have a screen measuring 32 inches with technology TFT display 16 million colors depth. Reach the screen dimensions are 640x360 pixels for a similar phone. Display interface alias user interface using a series 60 5th.
Nokia 5800 XPRESSMUSIC also start the camera with 3 megapixel quality following autofocus technology. Lens used was not a usual product but the lens from carl zeiss lens. Included also GPS feature.
This mobile phone manufacturer, the device weight is 104 grams to run on the GSM network, 3G UMTS, and HSDPA. User will be pampered with a wireless Internet connection via Wi Fi. If you feel less wide-screen display and large, Nokia has been facilitated with the TV series output, so the screen can be displayed on the television screen.
Facilities, of course, the music player into a major vendor to be Nokia. Have A2DP technology and stock memory slot up to 8 Gb. Resistance is adjusted to the battery power of 1320 mAh.
you can find other information about nokia 5800 by
google